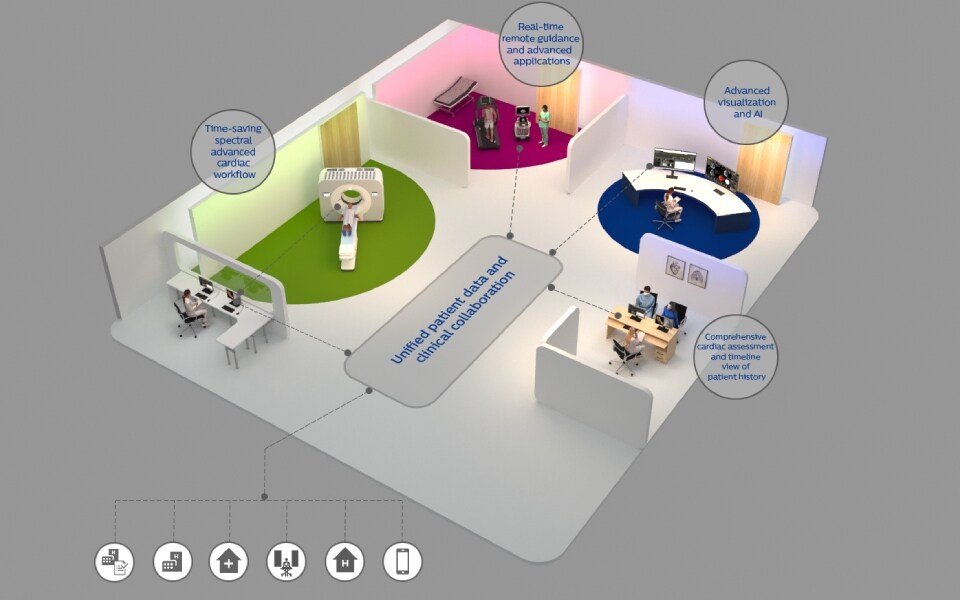 Cardiac Ultrasound Systems — EPIQ CVx




Provide advanced capabilities including automated applications for 2D assessment of the heart, as well as robust 3D right ventricle volume and ejection fraction measurements—making accurate exams faster.

Cardiovascular Image & Information Management – IntelliSpace Cardiovascular




Disparate clinical data from multiple sources add complexity to decision-making. Accessible anytime and virtually anywhere* , IntelliSpace Cardiovascular is designed to help streamline the cardiovascular workflows, empower clinicians to turn clinical findings into a decisive actionable plan and foster collaboration across your cardiovascular service line, while enhance operational efficiency of your entire cardiovascular service line.



*It's the user's responsibility to ensure that Philips network requirements (such as performance, VPN) for IntelliSpace Cardiovascular are met.


Spectral CT




The new Philips Spectral CT 7500, designed to support diagnosis, delivers fast cardiac scans with excellent coronary vessel visualization, and now layers of spectral information for every exam. The spectral detector allows the Spectral CT 7500 to be the only system that will acquire spectral cardiac data in the same time and place for all patients. This latest intelligent system has demonstrated a 34% reduction in time to diagnosis [3], a 25% reduction in repeat scans and a 30% reduction in follow-up scans [4] compared to conventional CT. The time-saving spectral workflow is fully integrated, enabling spectral chest scans.





[3] Andersen, MB, Ebbesen, D, Thygesen, J, et al. impact of spectral body imaging in patients suspected for occult cancer: a prospective study of 503 patients. Eur Radiol (2020). Results from case studies are not predictive of results in other cases. Results in other cases may vary. https://doi.org/10.1007/s00330-020-06878-7. [4] Analysis by CARTI Cancer Center in Little Rock Arkansas and University Hospitals of Cleveland. Results from case studies are not predictive of results in other cases. Results in other cases may vary.

Single-seat workstation solution — TOMTEC - ARENA




Integrates with EPIQ to effectively harness clinical information from cardiovascular imaging with off-cart review, rendering and advanced quantification in 2D and 3D imaging modes.

Advanced Visualization Solution — IntelliSpace Portal 12




Offers CT Comprehensive Cardiac Analysis, with automatic extraction and visualization of the coronary tree, as well as enhanced automatic labeling of the different coronary segments. The interventional bookmark enables quick transfer of diagnostic data from the imaging cardiologist to the interventional cardiologist to aid in treatment planning.

Collaboration Live tele-ultrasound




Collaboration Live lets you extend your team without expanding it, because physical distance is no longer an obstacle. Securely access on-demand expertise for real-time guidance, decision support and standardization of patient care. Enhance the experience for patients and staff while you improve workflow efficiency, save costs and drive better outcomes.
Ultraschall-Messungen lassen sich nahtlos an den Cardiology Informatics Workspace übertragen, um modalitäten-übergreifende Analysen durchführen zu können. Gleichermaßen sind Spectral CT Daten sowohl vom Katheterlabor aus einsehbar, als auch für Ärzte auf Station.